emotional health & Wellbeing
We are committed to the wellbeing of children and staff. Mrs Clay is our wellbeing lead and mental health champion.
All teachers have had 'raising achievement through mental well-being' training (February 2017) and there is an action plan to develop positive mental health for both staff and children.
Pastoral and Welfare Leader: Mrs. Clay is in every day and her role is to support families through education and acts as a key point of contact for parents in all matters relating to student welfare and wellbeing including school attendance, behaviour and safeguarding.
Pastoral Teacher: Mrs. Lawes works Tuesday and Wednesday mornings and her is to provide support directly to the children and will be running nurture groups and acts as a liaison officer as well.
Mental Health and Wellbeing Policy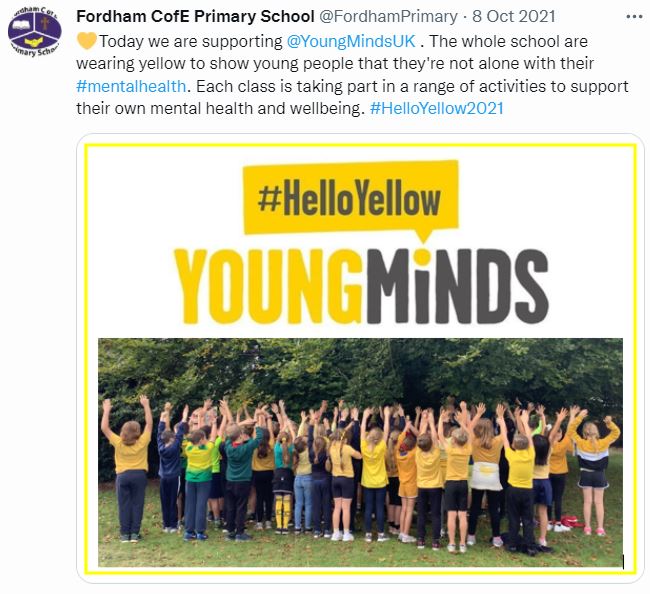 Children's Mental Health Week | YouTube series by our Pastoral Teacher Mrs Lawes
Below Mrs Lawes explores 5 Ways to Wellbeing. Each of the five videos has an activity sheet which may help you explore your own emotional health and wellbeing. We can't wait to hear which ideas you try!
| | | |
| --- | --- | --- |
| Introduction | 1. Connect | 2. Be Active |
| 3. Take Notice | 4. Learn New Things | 5. Give |
| | Conclusion | |
Web Links for Safeguarding, Mental Health & Wellbeing
| | | |
| --- | --- | --- |
| Whatever you need to know about coping with stress, anxiety or depression, or just the normal emotional ups and downs of life, the NHS Moodzone signposts to lots of other mental health charities and resources. | Centre 33 is a local charity which gives advice, support and information to young people in Cambridgeshire up to the age of 25. Contact them if you need a chat about housing, money matters, mental health, emotional well-being or anything else that is on your mind. | |

Covid-19
At this strange and unprecedented time it can be difficult for children to process and understand. The following eBook is a nice way to approach this subject and a good way to work through the topic together.
Coronavirus - A Book For Children
What is 'Wellbeing'?
Home Schooling Survival Guide
All Kinds of Feelings - Activity
Talking Game - Question Ideas
Family Wellbeing In Isolation
Fordham Wellbeing Extra Activities
Local Authority - Parent/ Carer Support Line
Bereavement Advice